Gainesville Concrete Repair & Soil Stabilization
Over 25 Years of Combined Experience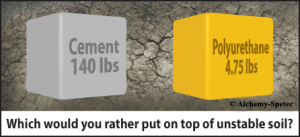 Don't spend all of your money on replacing your walkway, sidewalk, or patio. Allow our team of professionals at Lift It Rite to provide you with a cost-effective and efficient solution. We offer a variety of services and products to meet all of your stabilization needs. Over the years, we have developed effective methods in remediating soil instability and concrete sloping and cracking. We use only the best materials to provide our customers with exceptional solutions at affordable prices.
Services that we offer include:
Concrete Leveling: Is your sidewalk, driveway, or another concrete slab sinking? With concrete leveling, we use polyjacking to  lift the sunken structure back to level ground.
Void Filling: If ground erosion has created gaps underneath your driveway or stoop, our void filling service will fix the problem in a time-efficient manner. Our polyurethane foam will support over 7,200 pounds per square foot when fully cured.
Soil Stabilization: Our polyurethane with its low viscosity makes it a perfect solution for immobilizing water migration that is causing the soil to become eroded.
Service You Can Trust
When you work with Lift It Rite, you can rest assured that we will complete the job on time and to your satisfaction. We believe in maintaining a transparent partnership where you feel comfortable asking questions about the entire process. We take pride in giving our customers all of the information that they need to make an informed decision about their home or business. Our top priority is to ensure that your time with us is a stress-free and enjoyable experience.
If you are ready to make the necessary repairs to your home or business, give us a call at (470) 294-0313.
Quality You Can Trust
Quick Cure Time
Over 25 Years of Experience
Backed by Product Manufacturer
Stronger than Crystalline Bedrock